Dear friend,

Every third Sunday of each month we host an informal educational series called, "Home Health Made Easy". This series is designed to demonstrate simple ideas and tools you can use at home to improve your life and those around you.

This Sunday – April 21th!
Home Health Made Easy Workshop
Workshops are
FREE!
2:00 – 4:00 pm
Gratitude Offerings Accepted
INFINITE U Morsels
doTERRA Medicine Cabinet Makeover
This month we continue to explore your power within, as well as, the power of doTERRA Certified Pure Therapeutic Grade essential oils. We will explore making over your medicine cabinet, the natural way!
We discuss simple techniques that will help you through the maze of confusion while empowering you with understanding and some great resources!
The format of our third Sunday workshops vary to induce the maximum amount of learning with the highest amount of fun!
Also….
A Special Preview Screening!
Come and see our brand NEW video, "Eternale, A Deeper Look"! This video is a demonstration of the energetic potentials you will recieve during your session. We are very excited that our video will make its debut to Biofeedback practitioners from around the world at the Congress of Quantum Masters to be held in beautiful Hollywood California May 2-6!
Inform. Engage. Electrify.
Kick "Fun" into Health!
Join Us!
Spring has Sprung, have you?
Now that the weather is giving way to warmer days, are you ready to get moving? Are you ready to tackle those outside chores? Do you have the energy to get things done so you can relax in the Sun? …or is it more like pass out in the Sun?
Are you lacking the energy to get moving? Can't pry yourself from the couch? Are you loosing sleep? Do you feel lost or just plain dull?
Call, email, or stop by, we can show you how to re-ignite the spark. We have fabulous ways to help de-frazzle the stress, manage the pain, rebuild the body, and kick in the old gray cells. Life is all about living the fabulous dream of the Extraordinary!
It is time to dream a new dream! Learn how to see the Joy that is all around you everyday.
BioMat Basics!
When you do get out there and get busy with your Spring cleaning chores, why suffer with the aftermath of sore, achy muscles? With its healing NEGATIVE IONS, AMETHYST CRYSTALS, and penetrating FAR INFRARED warmth, our
BioMat
will have you back in action and feeling great in no time!
Come in for a session or ask about how you an own one for your very own!
Get started today! Why wait?
doTERRA's CPTG Peppermint Essential Oil
Did you know that Peppermint essential oil can…
Calm a Tempest!
Just one drop of peppermint oil rubbed on the stomach or taken internally can calm indigestion, an upset stomach or other internal digestive commotion. A must-have when traveling!
It's About Air Flow!
When sinuses seem to be clogged, and throats swollen and scratchy, diffuse pepperment oil (or apply topically on the chest) for almost immediate relief and revitalizing air flow. Pepperment acts as an expectorant and may provide relief from colds, cough, sinusitis, asthma, and bronchitis.
Leap from Lethargic!
Feeling lethargic or in a brain fog?
Peppermint has been known to improve blood circulation and awareness, leaving you with an energized, awake feeling.
Come in today and find out more!
Peppermint 15 ml – $27.33
doTERRA Intro Kit – $26.67
(includes 5ml each: Lemon, Lavendar, Peppermint, and CD & booklet)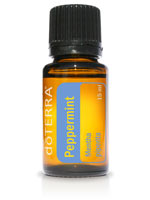 Excerpt from:
doterraeveryday.com
"101 Uses for the Intro Kit"
*******
BioMat Pro Set

Experience a Quantum Daily Tune-Up!